If there are things I can relate Jiufen old street to, those are wholesome gastronomic experience, overlooking sceneries and red round lanterns. It is said that the  film, Spirited away, based its location in this place. Read more about that similarities here:  Spirited away.  And I could say that just like Chihiro's parents, i was enticed by the delicious variety of food offered within its streets. For the whole two hours that we spent there, I could say that it was short but sweet. This was our last stop for our Northern Taiwan tour for our second day. Good thing I was able to see it in daylight and nightime.
This is the entrance. .Haha.I could sense that the placement of 7-11 beside the entrance is very strategic.Imagine everyone who will be taking a photo there. Ah!very good advertisement…haha. From that entrance, Food sellers are already giving some taste samplers. They will not hesitate to give you some more if you would ask.
Aside from the food, some stores are also selling souvenirs and various items.
Raprap,my brother, was starting to buy some peanut-rolled ice cream.It was cold and tasty.You can taste the peanuts. It is like lumpiang shanghai or burrito ice cream with crushed peanuts.
Busy narrow streets. Sometimes there will be slow traffic as the tourists stops in front of a store or food stall to check or buy on something.
Food everywhere
Here are some of the food I have tasted and seen. I may not remember all their names but I remember more what they looked like. The reason why I placed this food section of this blog is that I want you to experience how I felt when I was walking the narrow streets of Jiufen. (Super takaw-tikim everywhere)I did not taste everything though.I just pick those that is visually pleasing and tasty for me. Haha. But Please don't get tired scrolling I still have some stories to tell you below.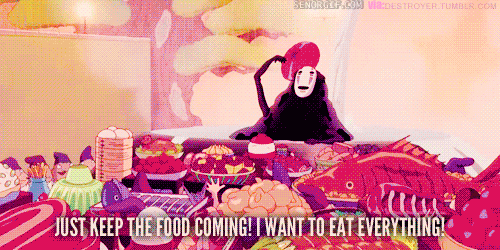 Look at me.I did not know which food stall to go.hahaha
I remember that I almost got my stomach full just by passing by the free taste.HAHA!!!I was not able to take pics of the others though.(If I did took pics of all the food that  saw, then this blog would have been longer.HAha)
Because we got tired from this all-day walking, we decided to eat our dinner.We actually had a hard time looking for a place to eat since there are many restaurants to choose from. However, this resto got our attention because it looks so clean and bright. The prices are also very affordable. You know we are not that hungry because we could find something to munch on with all these street food and taste samplers.  They just wanted to eat and sit. Good enough for a hungry stomach and tired legs.
When you continue walking straight, you will reach this place.Many people are here to take photos and see the overlooking view from Jiufen.
You can continue walking there. But as for us, we stopped here to take breathtaking photos of the view and looked for the famous century-old tea house
My heart was captivated by this view.
---
A Mei Tea house
We asked the nearby store where this is.This got me so curious that I want to see it for myself. This is said to be the inspiration of the bath house in Spirited away. Plus, This is seen in one of the post cards in Taiwan and if you happen to visit this particular place this is the one you shouldn't miss.
You know, this place where I was posing?It was narrowed by people wanted to take a pic of them with the teahouse. It is almost impossible to take a picture without photobombers. So expect that you need to have a good timing to take good pictures  or if you can snap asap.
This is the entrance.
We no longer went inside because we still wanted to roam in the old street.Plus,there were so many tourists inside that time.
Also, funny thing was, this bay or area where we took this pic happened to be a staircase that leads to another tea house.That teahouse's staircase was full of tourist wanting to take pictures of the A-mei tea house.
---
SHENGPING THEATRE
When you go down further you will see this Shengping theatre, which is a landmark at Qingbian Road. This was actually built during the Japanese occupation.
After we saw this as we go down, we returned immediately because we wanted to go back to the grape seed juice stall.(I'll tell it to you in a while)
---
A TUNNEL OR A PORTAL?
So this place was originally a gold mining area.It is not so surprising to see small tunnels just like this one. This is actually near A-mei tea house.Would you dare entering this one?
https://web.facebook.com/reezlie/videos/10209318354183795/
It looks a little creepy. So we did not go inside at first. But curiosity hits us and we continued walking. We ended up in a place like this.It is actually more tranquil place.Like literally it offers a place to breathe away from the crowded streets. There was no one there at that time so just took pics and left immediately.
In spirited away, there was also a tunnel but that one is a portal to the magical world.And that is how the story started.
---
The View
If you follow the path from the entrance and walk straight, you will see the view in the pics below. Jiufen is located in a mountainous area in the Ruifung district in the Northeastern part of Taiwan. So it is nearer from the Reifung station of TRA. It has some Baguio(Philippines) or Santorini(Greece) vibes because of the strategic placement of houses and establishments. Up there, it offers the stunning view of the pacific ocean.
BTW, look what I have found at Guidetotaipei.com. Jiufen is "Founded during the Qing Dynasty, this small town was a relatively isolated village until the discovery of gold during the Japanese occupation in 1893, quickly developing the town due to a gold rush. Many buildings in the town remain unchanged to this day, reflecting the Japanese influence on both architecture and culture on the island. During World War II, the town housed a Japanese prisoner of war camp where captured Allied Force soldiers (mainly British) were forced to work in the gold mines. After the war, gold mining activities declined, and the town today exists mainly as a tourist destination remembering and celebrating Taiwanese history and culture."read More
---
Before we leave
We really returned in this stall before we left. We bought this grape seed concentrate from Ms. Precious. I am telling you, you should really try this one. She gives a lot of taste samplers. You would definitely want for more.
---
TIME
I think the best time to go here is around afternoon until the sunset. You will see the red lanterns light up:).We stayed here until 7pm. It was not that dark yet.But the stores at this hour already starts to close.
Just before we finally leave the place our driver, Mr. Bingo Chen, asked us if we want to take a picture in this area or stay for a few minutes to appreciate the view. Look at that those are very nice to look at. Glad we just hailed a taxi for this trip. Buses don't stop in this place.
https://web.facebook.com/reezlie/videos/10209318370024191/
---
Overall:
I do not know if it is just the resemblance of the film's location, Spirited Away, to Jiufen. But I could say that it already had made a mark in heart. My brother was a little disappointed though because he expected the place to be so similar with that movie. You know, "No face" can be seen everywhere as key chain or stuffed toy.It was fun walking through that tunnel only to find out a different set up on the other side. It was a quieter place.It is like you can get lost and avoid the crowd in an instant. Probably there is more to see in Taiwan, but I encourage everyone to visit this place.
How to get here:
-You can ride the MRT and alight at  Songshan station.Then,take the take the Keelung bus 1062
.-As for us, we rode MRT from Ximen up to Taipei Main station.Switch to  TRA up to Reifung.Then, we took a cab from the Reifung station to cover our Northern Taiwan: Yehliu,shifen and jiufen street.(It costs us NT$2800  for 4pax.)
Day2-  Northcoast tour: Yehliu Geopark, Shifen and Jiufen
Day 3- Taipei101/Starbucks 35th flr ,  Elephant mountain